ACP Scam Alerts
The Affordable Connectivity Program (ACP) is a great way for eligible low-income households to cut the cost of Home Internet. But be careful: dishonest individuals and businesses are taking advantage of consumers interested in signing up for ACP.
Image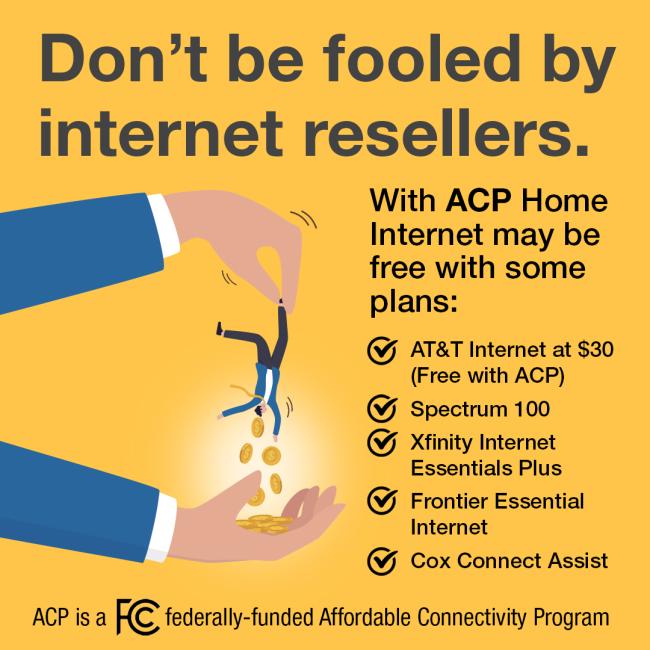 ACP helps households cut the cost of their internet bill to as low as $0. But some ISP resellers are fooling consumers into choosing "special deals" or bundled services with unnecessary options. But with these plans, consumers wind up paying 2-3 times more than other high-speed internet plans, even with the ACP discount.
Solution: Be sure to sign up for special ACP plans that, when used with the ACP $30 benefit, cut your Home Internet bill to $0. Click here for a list of the ACP Home Internet Plans.  
Image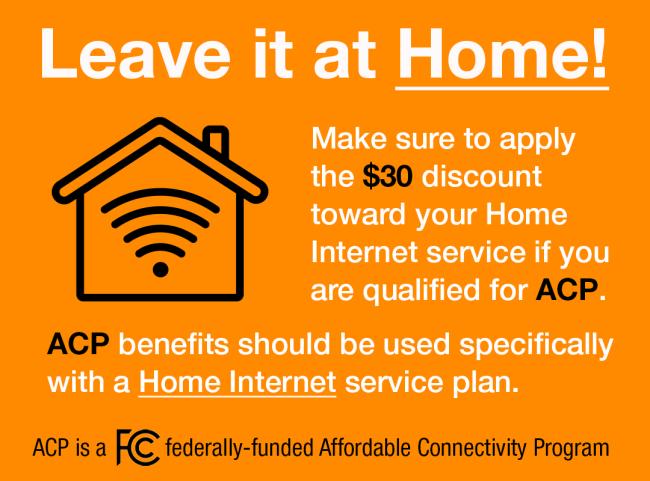 Many cell phone businesses are trying to convince consumers to use their ACP benefits for a cell phone plan. Don't fall for it: Only one ACP discount is allowed per household. So if you use the ACP discount for your cell phone plan, other members of your household will not be able to enjoy internet access at home to watch streaming shows, do schoolwork or work from home. 
Solution: Leave it at home. Make sure to specify that your ACP benefits should be used only for Home Internet. There are other assistance programs, such as the California LifeLine Program, that can be used to lower the cost of a cell plan.
Image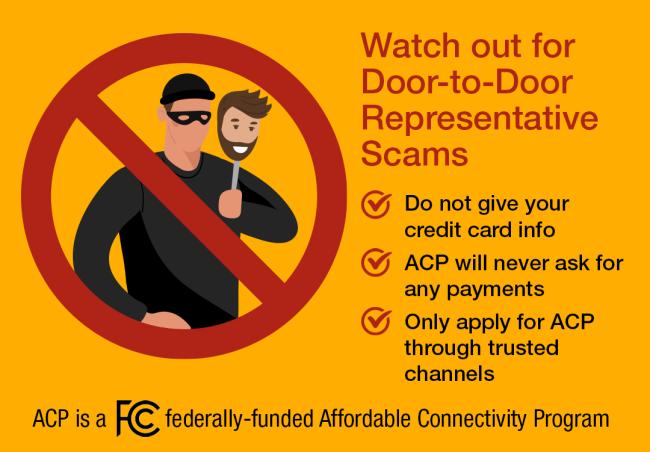 Door-to-door reps are promising amazing Home Internet deals. These scammers will pretend to help you apply to the Affordable Connectivity Program (ACP), then ask you for a down payment or your credit card number. 
Solution: 
No deposit. As part of these scams, consumers are asked to provide a deposit or a credit card number — an instant red flag. Don't be fooled, applying to the ACP program is 100% free. You will never have to provide a deposit or fee for services.
No waiting period. Scammers often insist that the ACP discount will not be applied immediately to your Home Internet bill. That's another red flag: Once an ACP application is approved, your internet service provider cannot require a waiting period before applying the discount or charge the current market rate before applying the ACP discount.
Stop ACP Scams
Here are a few tips to steer clear of ACP scammers:
DON'T pay to sign up for ACP benefits.

DON'T give out your financial information.

DON'T apply through a company that says you cannot change to a lower-priced service.

DO apply for ACP through verified and trusted channels, such as:

DO report ACP Fraud. If you are approached by anyone passing themselves off as an ACP or government representative or if you have been targeted by an ACP scam, please report it immediately here.